Instant Pot
I am so grateful to Lacey Grim for saying the words "Instant Pot" in a doTERRA training last year. What a life-changing utterance! I whipped my cell phone out of my pocket and ordered one from Amazon before that class was even over.
Oh, the peace and joy it's brought to my life! Amazing food FAST. Healthy. Easy. Empowering. Awesome.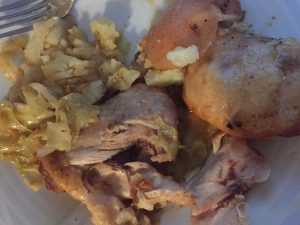 Today's recipe (with atrocious picture, because I made the mistake of taking a bite before taking the picture and I was like HURRY UP CAMERA I HAVE TO EAT THIS NOW):
Layer bone-in chicken thighs in the bottom of the pot. Squirt them with Boars Head mustard, fig jam from Whole Foods, and honey – maybe 1 tsp per piece of chicken for the mustard and jam, and maybe 1 tablespoon total of honey. Half-fill the fig jam jar with water and dump it in there. Top with whole medium-sized potatoes, and some shredded cabbage. Top with some apricot jam that your mom made (I guess you could buy it at the store, too, but Mom's is best – about two tablespoons).
Set the pot for 15 minutes on manual, do a natural pressure release, and enjoy. The meat is falling off the bones, the potatoes are perfectly done, the cabbage is a nice accent, and the flavor is out of this world. I only added a pinch of himalayan pink sea salt at the end.
Yes, I did say 15 minutes. It doesn't matter if you're doing 1 or 10 chicken thighs, the time will be the same, due to the awesomeness and divinely-inspired design of the Instant Pot.
You want your own Instant Pot, don't you? You can have one, and help support this blog and our ministry in the process! Get it from our Amazon affiliate link!